A walk in bathtub has an inwards swinging sealing door and either has or does not have, a seat. This is to make it accessible to people with disabilities or the elderly who find getting into, or out of, a regular bathtub difficult. But what is the best walk in tub for your particular needs?
Read my article reviews about: Choose the best bathtub for your home needs
The Different Types of Walk In Bathtubs
As with regular bathtubs, walk in bathtubs also comes in different types, so you can choose the best walk in tub that is just right for you.
Soaking Tub Walk In Bathtubs
A soaking Tub Walk in Bathtub gives its user the benefits of any of the regular best bathtubs around – a nice, long soak at the end, or beginning, of the day. Just because you are unable to get into a regular bathtub, it does not mean you should be denied the pleasure of using one, after all.
Whirlpool Walk In Bathtubs
A whirlpool walk in bathtub comes fitted with regular jets, just like the best hot tubs around. These jets circulate water throughout the bath,  sucking in water and pushing it out at high speed, giving you a great, relaxing massage after a long, hard, day.
The massaging action gets to sore muscles, giving almost instant relief due to a nice, deep massage without any of the hurt from going for massage therapy.
Whirlpool walk in bathtubs have higher maintenance needs than an aerated bathtub. This is because used water is filtered through the system, resulting in the system needing a regular cleaning session to ensure it works optimally.
You can read my article reviews about: Your Personal 'All You Need to Know' Guide About the Best Hot Tubs Around
Aerated Tub Walk in Bathtub
This type of walk in bathtub, much like the whirlpool walk in bathtub, also has jets. In this case, however, the massage action is provided by air pumping through the jets from an outside source to provide you with millions of bubbles that massage you all over.
The air is sucked into the system, heated, and pushed out at a high velocity, ensuring a warm, soothing feeling against the skin
Air and Whirlpool Walk In Bathtubs
With these bathtubs, you get the best of everything. You get the great message resulting from the water pressure shooting out of the water jets, or you can opt for a gentler experience from the air bubbles.
You could, of course, opt for both these systems to work at the same time, giving you a bathing experience not to be missed.
Walk In Tub Reviews
So let's be frank with each other. Making the correct choice regarding the best walk in tub is difficult. Walk in tub reviews will all tell you this make of product or that make of product is the best. The reason is usually that walk in tub reviews are written by people for a specific company. So our team had a look at a number of walk in tubs and reviewed them for you. Here is our list of favorites.
Deluxe Dual Massage Acrylic Walk In Bathtub
If you like the term 'easy to clean' then this is the one for you. The white cast glossy acrylic coat of this bathtub ensures cleaning pleasure, while the pristine white gleam will brighten any bathroom interior.  To add to your pleasure, this is a dual massage bathtub, i.e. it has the functions of both an aerated tub and a whirlpool tub.
Textured slip resistant floor
Two safety grab bars
The two two-inch drains, stoppers, and overflows allow for 80 seconds drainage of water
The high-quality acrylic shell if reinforced with fiberglass for strength
The door and shell frame carry a lifetime warranty
All parts have a five-year warranty
The door is removable, making cleaning a breeze
The air massage system in this unit has 10 air jets, while the hydro water massage system has 12 water jets – with an inline heater
The tub has a great foot massage feature
Additionally, the unit is fitted with a ton of extras, including an ozone sterilization system, anti-scald thermostatic control valve, a flow rate control (for hydro massage), and LED chromotherapy lighting
Installation may need professional plumbing and electrical work
Older homes may need additional plumbing due to the fast drainage to prevent the sewerage system getting overwhelmed
HandiTub Whirlpool & Air Jetted Wheelchair Accessible Bathtub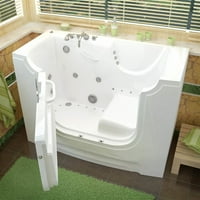 If you are looking for something nifty and easy to place with minimum fuss, this whirlpool and air unit is a great bet. All that is needed is an adequate water supply and drainage in the correct position.
A 4-piece roman faucet set is included
The stainless steel frame supports a fiberglass and trip gel coating
Unit has a slip resistant floor, molded bathing seat, and safety grab bar
The 26 air injectors are powered by a 1HP air blower
The unit has 12 fully adjustable whirlpool jets that are powered by means of a 1HP water pump
The front panel can be removed for maintenance
Water temperature is maintained by means of an inline friction heater
You can surround yourself with your favorite aromatherapy scents by means of the massage bubbles
Promotes health by means of chromotherapy lights
Unit includes a purge cycle and shower spray
The tub has no surround
It takes over ten minutes to fill with water
Installation directions are a little difficult to follow
The electric cord is not easily attainable
Prairie Whirlpool & Air Jetted Bathtub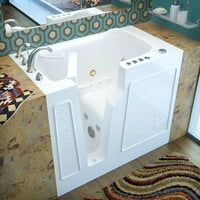 A great American brand tub with strong jets and air nozzles. This tub has a good, well-rounded finish.
Low threshold entry
Front panel is removable, making access for maintenance easy
ADA compliant molded bath seating
A safety grip bar and resistant floor pattern ensures added safety
Instructions are difficult to follow
Installation is quite difficult
Difficult to access valves, feet adjustment, drain, and pump
Aspen Whirlpool Bathtub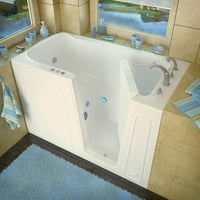 A whirlpool walk in tub that ticks all the boxes, resulting in a most relaxing, massaging soak.
The product boasts thirteen fully-adjustable directional whirlpool jets
Jets are powered with a 1HP pump
Front is removable to give easy access for maintenance
There is a bathing seat, safety grip bar, and slip resistant floor pattern to making bathing a safer experience
Water heat is maintained by an inline friction heater
Includes 1-speed air jets
Extra plumbing costs may be incurred due to the drain and overflow location
The large tub needs an adequate sized water heater
Some people may find the installation instructions a little tricky
Telluride Whirlpool Jetted Bathtub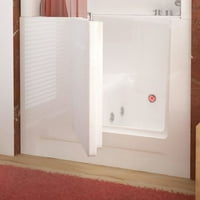 With side panels included for a three-sided enclosure plus an adjustable shower handle for easy use, this whirlpool tub is a sure winner.
Includes three side panels
The shower handle is adjustable
Sports a molded bath seat, safety grab bar, and resistant, anti-slip floor pattern
Door swings outwards for easy entry
65 gallon water capacity
Bathtub boasts six fully adjustable, directional whirlpool power jets
Comes with a fitted 1 HP water pump
Tub has no tile flange
You may need additional plumbing and electric work for installation
Exclusive Series 48 in. x 28 in. Walk-In Whirlpool and Air Bath Tub
Experience a deluxe leg massage in the comfort of your own home, while relaxing in the comfort of your own home.
Has a quick drain function allowing for drainage in less than two minutes
Easily fits into an alcove
Low-entry walk-in feature
Eight water jets ensure a deep tissue massage
In-line heater keeps water at a constant temperature
Includes a hand-held shower wand
Build in seat and safety hand bars with textured floor allowing for safety
May need additional work on your sewage system due to the quick drain function
Product has a waterproof pillow for back and neck support that is not included but needs to be bought separately
How Do Walk In Tubs Work?
Walk in bathtubs are usually sold as a complete unit that only needs attaching to your water supply and a drain. If, however, you opt for a whirlpool or aerated walk in bath tub, or even one that has both, you would also need to take the power attachment into consideration.
A walk in tub is fitted with a door that either swings inwards, or outwards. You would open the door and transfer yourself (from a wheelchair) to the seat, if disabled, or simply walk in and sit down. The floor, which is usually slip resistant, and added arm handles, are added safety features that ensure you do not fall.
Most of these bathtubs are fitted with a quick-draining function, as you would, typically, have to wait for the water to drain before being able to get out.
The door threshold is usually very low to allow for easy access.
Read more: How to Choose the Best Baby Bath Tub
Pros and Cons of Walk In Bathtubs
The most obvious benefit of a walk in bathtub is that it makes for easy bathing for people with mobility issues. These may not only include those who are in a wheelchair but the elderly, who find it difficult to get into or out of a bath, as well.
These bathtubs are also usually designed in such a way as to forestall the possibility of slipping. The handrails allow for something to hold on to while bathing, while the seating makes the experience so much easier. An added extra is the non-slip floor that gives you that extra feeling of safety.
When it comes to cons, the first is that you have to first get into the tub before being able to turn on the water. This could be quite chilly.
You also need to wait for the bath to drain before getting out, as the door can not, and should not, be opened while there is still water in the bath, as it would cause flooding. Thankfully, most walk in bathtubs are, these days, fitted with a special draining function that allows for the water to flow out much quicker than is the case with a conventional bathtub.
How Do I Choose the Best Walk In Bathtub?
Choosing the best walk in bathtub is a matter of perspective, i.e. your perspective.  You need to ask yourself: "What are my needs?"
One of the things that need thinking about is size. These bathtubs range in size, so you need to decide on the size that fits your bathroom, and your needs. In addition, do you want a soaking tub walk in bathtub, a whirlpool walk in bathtub, an aerated tub walk in bathtub, or a dual function tub, i.e.  an air and whirlpool walk in bathtub? Price and personal preference play a role in making this decision.
Then there are door options to consider. Do you prefer an inward swinging or an outward swinging door? While an outward swinging door might be a better option for someone in a wheelchair, it does tend to take up quite a bit of bathroom space.
Conclusion
Taking the different walk in tub reviews into consideration, I have to say that my pick would be the Deluxe Dual Massage Acrylic Walk In Bathtub. For me, this one typifies the heights of luxury and ticks all the boxes. Add to this that it is a dual function bath, allowing for both the whirlpool and air massage systems, plus the extras, e.g.  the ozone sterilization system, and I am sold. I also like the fact that the parts have a five-year warranty and that the shell frame and door carry a lifetime warranty. The removable door is the cherry on top.